Panasonic Lens LUMIX G-Vario 14-42mm ASPH / Mega O.I.S. f3,5-5,6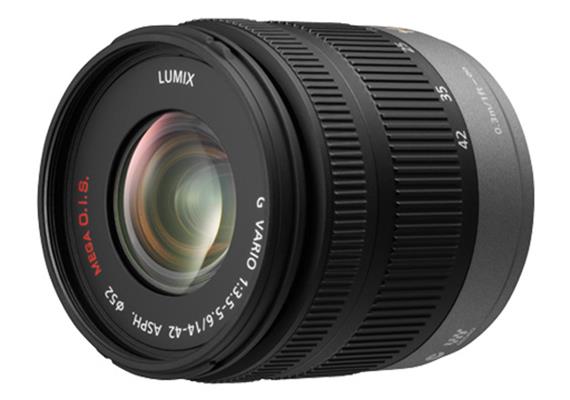 Description
Interchangeable Lens G-Micro
Featuring the high mobility thanks to the ultra-compact size and lightweight body, this lens offers a versatile zoom range of 14-42mm (35mm camera equivalent: 28-84mm) suitable for a wide range of scenes from dynamic landscape to portrait. The lens system features excellent contrast at entire zoom range and the inclusion of an aspherical lens improves optical performance by minimizing distortion, even at the 28mm wide end.
The lens incorporates Panasonic's MEGA O.I.S. (Optical Image Stabilizer), which makes it easy to shoot super clear shots even in low-lit situations by suppressing the blur caused by a hand shake.
Adopting an inner focus system driven by a stepping motor, the superior optical design realizes outstanding smoothness to support the high speed AF system of LUMIX G cameras. When mounted on the cameras of LUMIX G Micro System, you can use and take advantage of the contrast AF system and the convenient functions applied from it.
The Micro Four Thirds System standard made it possible to achieve its compact size and lightweight body. Despite its extremely compact size and superb optical performance, this lens brings out the full capabilities of the 4/3-type image sensor, achieves smoother Live View in superb combination with camera's body and allows a variety of unique features such as the contrast AF function of LUMIX G Micro System cameras.
With its minimum focus distance of 30cm even at full zoom, this lens provides a maximum photographic magnification of 0.32x (35mm equivalent). Seven aperture blades consist a circular aperture diaphragm and produce an attractive smoothness in out-of-focus areas even shooting at large aperture. The lens system uses multi-coated lens elements that reduce ghosts and flare to an absolute minimum, helping deliver a high optical performance.
Ultra-compact Size and Lightweight Body with High Optical Performance

MEGA O.I.S. - Panasonic's Advanced Hand-shake Correction Technology

Contrast AF System Support

Based on the Micro Four Thirds System Standard

Minimum Focus Distance of 30cm over the Entire Zoom Range

Circular Aperture Diaphragm and Multi-coated Lens