Panasonic 3D Lens LUMIX G-Micro 12,5mm f12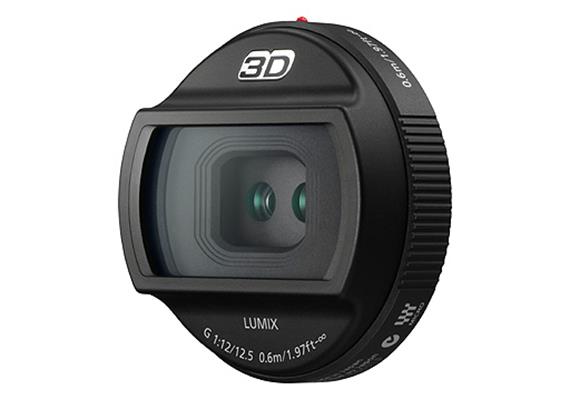 Description
Interchangeable Lens G-Micro, 3D
The LUMIX G 12.5mm / F12 is the world's first digital interchangeable lens to make 3D shooting possible with an interchangeable lens system camera (For a digital interchangeable lens of September 21, 2010). This lens allows users to shoot landscapes, people, and a variety of subjects in high-quality 3D, to be enjoyed later with their 3D VIERA televisions at home.
The LUMIX G 12.5mm / F12 features two optical systems installed within the diameter of the lens mount, creating stereo images from the left and right lenses, to be processed with a 3D image processing system.
The LUMIX G 12.5mm / F12 allows easier handling and instant 3D shooting with cameras without a special structure for 3D shooting. It produces 3D images without distortion or time lag between left and right images, even for moving objects. The 3D images, even close-up shots, taken with this lens are easy on the eyes when viewed on 3D VIERA televisions.
Each lens system is comprised of 4 elements in 3 groups. Thanks to Panasonic's advanced technologies in optical technology, image processing system, and lens barrel design, the 3D lens still manages to retain an extremely compact size and light weight body of 45g.
The LUMIX G 12.5mm / F12 complies with the Micro Four Thirds System standard, an interchangeable lens camera system that was designed and developed to optimize the characteristics of digital technology.
The World's First Interchangeable 3D Lens

Two Optical Systems Adopted

Enjoyment of 3D-capable VIERA Televisions

Extremely Compact Size and Light Weight Body

Contrast AF System Support

Based on the Micro Four Thirds System Standard