Panasonic Pancake Lens LUMIX G-Micro 14mm Asph. f2,5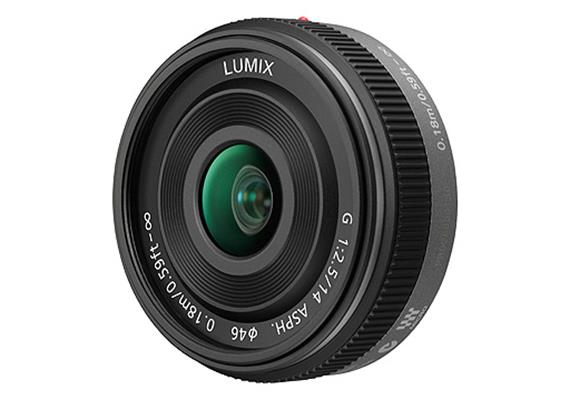 Description
Interchangeable Lens G-Micro
The LUMIX G 14 mm / F2.5 ASPH. features a dramatic compactness and light weight despite its 14mm of focal distance (35mm camera equivalent: 28mm) and F2.5 brightness. The 14mm wide angle of view (35mm camera equivalent: 28mm) allows easily fit subjects into the frame even when shooting indoors where the distance is limited. F2.5 brightness allows a beautiful soft focus for photos to be even more impressive.
Comprising six lenses in five groups, this lens system uses three aspherical lenses most effectively to minimize both distortion and chromatic aberrations, achieving super high resolution corner to corner.
When mounted on LUMIX G Micro System cameras, the LUMIX G 14 mm / F2.5 ASPH. allows use of the advanced contrast AF system, which includes a Face Recognition function, for more convenient, more enjoyable shooting.
The LUMIX G 14 mm / F2.5 ASPH. complies with the Micro Four Thirds System, an interchangeable lens camera system that was designed and developed to optimize the characteristics of digital technology. Despite its extremely compact size and superb optical performance, this lens brings out the full capabilities of the 4/3-type image sensor, achieves smoother Live View in superb combination with camera's body and allows a variety of unique features such as the contrast AF function of LUMIX G Micro System cameras.
7 aperture blades consists a circular aperture diaphragm and produces an attractive smoothness in out-of-focus areas even shooting at large aperture settings. This lens system uses multi-coated lens elements that reduce ghosts and flare to an absolute minimum, helping deliver a high optical performance.
A Compact and Lightweight Pancake Lens

14mm (35mm camera equivalent: 28mm) Wide-angle and F2.5 Brightness

Three Aspherical Lenses for a Superb Optical Performance

Contrast AF System Support

Based on the Micro Four Thirds System Standard

Circular Aperture Diaphragm and Multi-coated Lens Elements