Inon Dome Lens Unit II für UWL-H100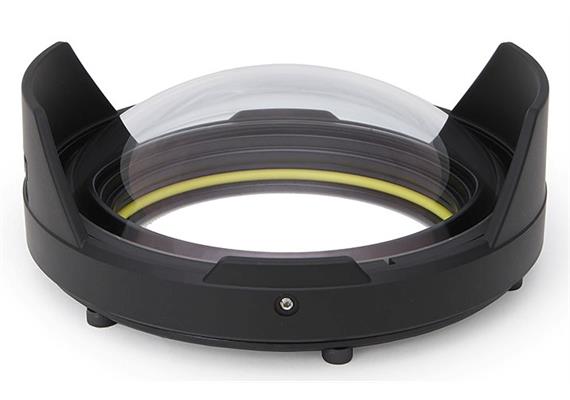 Description
Dedicated super dome option to increase underwater view angle of compatible "UWL-H100" series wide conversion lens by simply attached it on the compatible wide conversion lens.
Maximum angle of view underwater is from 『131.6°』 up to 『150.8°』 in combination with compatible wide conversion lens (*3).
Optical element is an optical glass with anti-reflection coating on inner surface.
Together with the protector/lens hood which protects lens surface and blocks unnecessary light, the「Dome Lens Unit II」 provides high-quality fish-eye image with less flare/ghost as same as previous model.
The protector/lens hood is molded resin with detachable structure to lighten total weight, enhance handy hood position adjustment and realize competitive pricing.
Features:
Compatible wide conversion lens: UWL-H100 28LD

Weight *standalone[air]: 470g

Length / weight [underwater]:
(with UWL-H100 28LD - 72.7mm / approx. 505g

View angle underwater (*3):
(with UWL-H100 28LD - Max. 144.8°
Specifications:
Outer diameter / standalone length: φ132.4mm / 48.2mm

Depth rating: 60m

Material / finishing: Corrosion resistant aluminum alloy / rigid black alumite, PC etc.

Glass material / surface finishing: Optical glass / anti reflection coating (inner surface)
(*3)
Actual view angle varies depending on a camera/housing to use with.
Underwater angle of view, focus range and vignetting is basically same as previous model 「Dome Lens Unit for UWL-100」.